*Vogue Eyewear New Campaign Featuring Taapsee Pannu Set against an everyday yet dreamy ambience, the new campaign invites and encourages the audience to #LetsVogue like SUPERSTARS!*
News Stardom : Kolkata, 1st. June 2023: Globally loved eyewear brand Vogue Eyewear is celebrating its 50th anniversary this year. To mark this special occasion, and just in time for the summer season, the brand has unveiled their new campaign featuring the India brand face – Taapsee Pannu.
With key message 'WE'RE SUPERSTARS!' the campaign reaffirms that every individual is a SUPERSTAR in their own right, it reinforces brand's ethos of self-belief, self-trust and self- confidence. The film's original sound-track by singer and songwriter Kavya Trehan, is new-age, upbeat and spirited; genuinely personifying Vogue Eyewear's vivacious appeal.
Taapsee looks chic and flamboyant in the campaign film as she dons a specially curated collection from Vogue Eyewear that is fun, versatile, colorful, high on style and released for the anniversary occasion.
Commenting on the new campaign, actor Taapsee Pannu said, "A big congratulations to Vogue Eyewear on the 50-year milestone. It has been an absolute honor for me to be associated with a brand that has always stood up for originality and inclusivity. Marching proudly into yet another year of a fabulous relationship, I am delighted to be a part of this marquee brand moment. Representing the true thoughts and feelings of the audience, the new campaign encourages to believe in yourselves and be proud of your originality. I honestly believe that we are all Superstars in our lives; So come, join me and #LetsVogue like SUPERSTARS together."
Colorful, inclusive, and creative, Vogue Eyewear campaigns have always celebrated real people who don't just make trends for fashion but own it as an attitude. In the 50 years of its grand existence, Vogue Eyewear has celebrated leading fashionable muses and inspiring women giving them a chance to frame their own take on fashion.
"As we step into a momentous year celebrating Vogue Eyewear's anniversary, this special campaign augments the core values of the brand and the key moment. Not only we are celebrating our association with our Superstar Taapsee Pannu for a successful third term but also our consumers who are at the heart of this campaign, playing the lead role in their everyday lives like superstars themselves." said Gunjan Saigal, Brand Group Head – Luxury, Premium & Fast Fashion.
Gotham Creative is the creative agency behind the campaign. The campaign film has been directed by Jessica Sadana. The integrated marketing campaign will be launched across channels such as social, digital, OOH and print, for audiences across the country.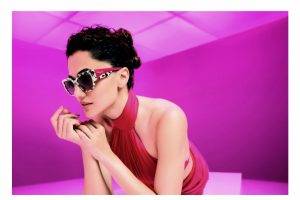 Adrijaa Sanyal, Executive Creative Director at Gotham Creative comments, 'Every year, we strive to create a campaign that will inspire our consumers to embrace their sense of style with Vogue Eyewear. This year, while we celebrate the brand's 50th anniversary, we wanted to extend this sense of celebration towards our consumers, celebrating them as the "superstars" who make it possible for the brand to be where it is – in its grand golden jubilee!"
Availability:
The latest collection of Vogue Eyewear styles is available at all leading stores and online portals like Titan Eyeplus, Amazon India, AJIO, Nykaa, TataCliq and Sunglass Hut.
Pricing: Starting at INR 2990/- onwards
About Vogue Eyewear https://www.vogue-eyewear.com Instagram.com/Vogueeyewear
Facebook.com/Vogue.eyewear