News stardom : Kolkata 10th,  October 2023: JBL, the leading iconic audio brand from HARMAN, is thrilled to kickstart its festive campaign Mute the World; Unmute festivities setting the stage for an electrifying Durga Pujo celebration. As the City of Joy gears up for the five-day Durga Pujo extravaganza, JBL's special campaign promises to resonate with the spirit of the festivities throughout this month.
JBL is all set to delight its customers in Bengal, Assam, Orissa, Bihar, and Jharkhand with a spectacular array of offers and discounts on a wide range of products, including the much-loved noise-cancellation headphones, Dolby Atmos & DTS-X enabled SoundBars & Partyboxes. With the launch of this 30-day Mute the World; Unmute festivities campaign, customers can expect cashbacks, free EMI offers, and irresistible deals on their favorite JBL products making it easier than ever to "Mute the World" and immerse themselves in the celebrations.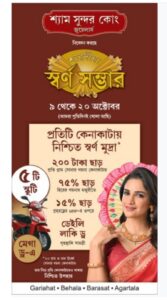 Festive offers on JBL Products:
● Upto 25% Instant Cashback or 1 EMI free
● No cost EMI on JBL Products above 2999/-
The consumer offers are available across all major retailers in Bengal, Assam, Orissa, Bihar and Jharkhand and also on https://in.jbl.com/.
To add to the excitement, JBL has rolled out a captivating social media campaign featuring some of the region's most prominent actors, performers & photographers including Parambrata, Mir Afsar Ali, Ushashi Ray, Priyanka Sarkar, Swastika Dutta, Calcutta Canvas and others. This star-studded lineup promises to bring an extra dose of glamour and joy to your Pujo celebrations, ensuring that you can "Unmute Festivities" with the perfect sound.
/
Vikram Kher, Vice President, Lifestyle, HARMAN India, expressed his enthusiasm, stating, "JBL has always been committed to enhancing the audio experience of our customers. As we unveil our festive offers, we celebrate the spirit of giving and sharing joy with our valued customers. This season, our commitment is to brighten homes, hearts, and smiles."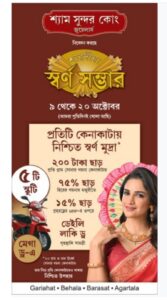 About JBL: JBL creates the amazing sound that shapes life's most epic moments. From iconic events like Woodstock and concerts at Madison Square Garden, to games at Yankee Stadium and weekend road trips, JBL elevates listeners' experiences with award winning audio that lets them make the most of every moment. With 75 years of unmatched professional credentials and industry leading innovation, JBL has expertly blended a bold vision of the future with the passion and talent of engineers and designers around the globe. JBL's Signature Professional Sound is the leading technology that powers major pop culture events, and the brand has partnered with the world's top talent across music, sports and esports.