News stardom: Kolkata, 9th.October, 2023: Durga Pujo, the most cherished festival in Bengal, is a time when the city comes alive with art, music, and devotion. It's a time when the air is filled with the rhythms of dhak, the scent of dhuno, and the taste of delectable Bengali delicacies. The Astor Kolkata welcomes its patrons to experience the grandeur of this auspicious occasion with "ESHO HE MAA DURGA," a carefully curated selection of dishes that evoke nostalgia, celebrate tradition, and showcase the diversity of Bengali cuisine.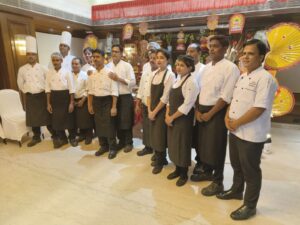 Celebrate the spirit of Durga Pujo at The Astor Kolkata's renowned restaurant, Kebab-e-Que, located at 15, Shakespeare Sarani Rd, Kankaria Estates, Park Street area, Kolkata- 700071. The magnificent "ESHO HE MAA DURGA" Pujo Buffet is available from October 20th to October 24th. Indulge in a grand feast for INR 1650 AI (all-inclusive), with lunch served from 12 noon to 3:30 pm and dinner from 7 pm to 11:45 pm. For reservations and inquiries, please contact The Astor at 033-2282-9957.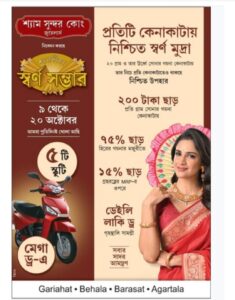 To usher in the festive season, the hotel organised a preview of the wide buffet spread on Monday October 9 at the hotel's banquet. "From the grandeur of The Astor's architectural marvel to the exquisite presentation of these culinary delights, every detail is thoughtfully crafted to reflect the essence of Pujo.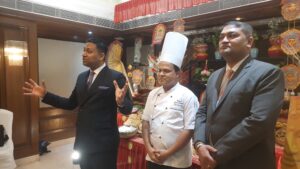 "ESHO HE MAA DURGA" at The Astor Kolkata is not just a meal; it's an immersion into the heart and soul of Bengali culture," says Amit Kobat, General Manager at The Astor Kolkata.
The menu has been put together by The Astor Kolkata team including Executive Chef Azad Arif.
Upon entering The Astor Kolkata, guests are welcomed by the tantalizing aroma of freshly prepared shorbots and snacks, setting the stage for a genuinely immersive experience. The small bite section invites the guests to indulge in Mutton Pudina Seekh Kebab, Cabin Style Chicken Cutlet, and more, each bite bursting with flavour. The buffet itself showcases an array of delectable dishes, including the beloved Luchi with Cholar Dal, Narkol Posto Bata, Shorshe Kancha Lonka Bhetki, Gol Bari Mete Chorchori, and more, offering a symphony of tastes. For those seeking the culinary delights of yesteryear, the menu boasts creations like Purano Dhakar Mangsho Bhuna, Sutanotir Prawns Malai Curry, Goalando Steamer Chicken Curry, and more, transporting one back in time. Desserts are a sweet finale to the feast, featuring Gurer Icecream, Lal Doi, Chenar Jelabi, Baked Mihidana, and more, each a decadent treat.