News stardom : Kolkata, 18th. October, 2023 – In a heartwarming gesture of inclusivity and community spirit, Desun Hospital, Kolkata organized a memorable Durga Pujo parikrama for 20 children from Manovikas Kendra, underscoring its commitment to spreading joy and fostering a sense of togetherness. The event, which took place on October 17, 2023, left a lasting impact on the children and their families.
Manovikas Kendra, a center dedicated to the care and rehabilitation of children with special needs, witnessed an extraordinary day as Desun Hospital extended its hand of friendship. The children, accompanied by dedicated caregivers and staff, embarked on a special journey to witness the grandeur of Durga Pujo pandals across Kolkata.
Ms. Shaoli Dutta, Director of Desun Hospital, expressed her delight, saying, "We are thrilled to have had the opportunity to bring smiles to these wonderful children's faces. Durga Pujo is a time for celebration and coming together as a community, and we wanted to ensure that these children could partake in the festivities like everyone else. It was a heartwarming experience for all of us."
The children from Manovikas Kendra were filled with joy and excitement as they soaked in the vibrant colors, artistic decorations, and spiritual ambiance of the Durga Pujo pandals. Desun Hospital, Kolkata's initiative exemplified the spirit of compassion and inclusion, spreading happiness during this auspicious festival.
Desun Hospital remains committed to its mission of making a positive impact in the lives of individuals and communities, not only through medical care but also through acts of kindness and support, such as this heartwarming Durga Pujo parikrama.
*About Desun Hospital Kolkata*
Desun hospital, Kolkata offers a comprehensive range of tertiary care services across more than 45 specialities, including Cardiac Sciences, Cancer (Medical, Surgical, and Radiation), Neurosciences, Orthopaedics, Urology, Medical and Surgical Gastroenterology, among others. The institution is renowned for its round-the-clock emergency and critical care facility, providing prompt and specialized medical attention when it matters the most.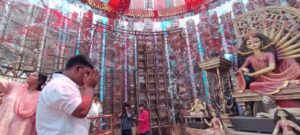 About Desun Hospital Group:
With all super-speciality tertiary care facilities, Desun Hospital Group is a one-stop healthcare destination for all. Founded by Mr. Sajal Dutta headquartered in Kolkata, 750 bedded hospital in Kolkata and 300 bedded hospital in Siliguri, Desun Hospital Group is a leading healthcare institution in Eastern India, committed to deliver exceptional medical care and services. With a strong emphasis on patient well-being, Desun Hospital Group has consistently set high standards in healthcare and continues to strive for excellence.