News Stardom : Kolkata, 2nd July, 2023: Sangvi Dance Centre – A dance and fitness premiere dance academy organised an annual show Sangvi Moments at Kala Mandir, Kolkata. This decade old studio has brought some of the finest international dance forms to the city including western discipline. The event was managed by Map5 Events.
The Grand Finale event Sangvi Moments was inaugurated & attended by Dr. R. K. Gupta, Ayurvedic oncologists from Rishikesh; CS (Dr.) Adv. Mamta Binani, President of MSME Development Forum WB Chapter; Neetaa Kanoria, Director Wings; Dr. Garima Agarwal, Bhaarat Gaurav Ratna and Bravo International World Book of Records Holder for Astrology Vastu and Healing; Gagan Sachdev, Owner of Bodyline; Shraddha Parekh Agrawal, Banker; Vipul Krishna Agrawal, Businessman; Mr. Ashish Mittal, Director, Golden Tulip Hotel; Sangeeta Bhuwalka, Director of Sangvi Dance Centre; Vineeta Majithia, Director of Sangvi Dance Centre and many other eminent personalities.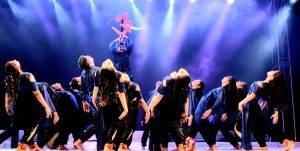 Sangvi Dance Centre is Kolkata's premiere dance academy. They have an experience of more than 23 years in the dance field and fitness. Their team of experienced instructors have successfully trained over 5 Lakh students between the age of 3-70 years. They teach multiple dance forms like Hip-Hop, Jazz, Contemporary, Whacking, Semi-Classical, and Bollywood, to name a few. Not only dance, but they also specialize in the field of fitness by providing regular Zumba classes headed by their mentor along with other certified trainers. Their Zumba Classes for Adults are designed to be a perfect blend of Dance & Fitness and to be a stress-buster activity.
The grand decade show portrayed themes like- Adiyogi (Dedication to Shiva); Live, Love, Dance; Arabian Nights with Jasmine (Belly Dance); Joint Family; A dance Jiggle with 10 Bollywood Divas; Somewhere over the Rainbow; Black Colour (Love Obsession); The Magic Toystory; 10 is Dual Digit Number (Dual Personality); Zumba; Gangu Bai; When I Grow Up; Covid; 10 Lessons from Bhagvad Gita; Sufi Kathak; 10 Kadam (Health Awareness for Kids) and many more.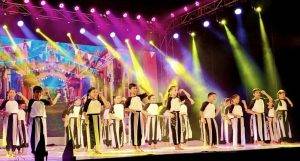 On this occasion, Sangeeta Bhuwalka & Vineeta Majithia, Director of Sangvi Dance Centre said, "It's a great honour for us to present our 10th Annual Show- Sangvi Moments. More than 400+ students of age 3-60 yrs participated at Sangvi Moments 2023. Such events apart from inculcating a deep sense of self-belief, decision making, memory and confidence in the students, nurture their spark and creativity at the same time. We are glad that our Sangvi family shares a deep bond and we thank all our participants for their extreme hard work and dedication to make this show a great success."