News Stardom : Kolkata, 3rd. July 2023: The Institute of Chartered Accountants of India (ICAI) proudly celebrates its 75th Chartered Accountants' Day, marking its establishment on July 1, 1949. This significant occasion aligns with the nationwide celebration of Doctors' Day, recognising the vital roles and responsibilities both professions hold in society. Chartered Accountants are often regarded as the doctors of financial health, underscoring their crucial contribution to the well-being of businesses and the economy.
Embracing the spirit of nation-building, The Institute of Chartered Accountants of India actively engages professionals, stakeholders, and the public at large to participate in various programs across the country. These initiatives aim to foster growth, development, and contribute to the overall progress of the nation.
This year's celebration coincides with the yearlong nationwide observance of "Azadi Ka Amrit Mahotsav," commemorating 75 years of India's Independence. To mark this milestone, a diverse range of activities has been organized throughout the country. These include Financial and Tax literacy drives through Jan Jagrukta Abhiyaan, promoting sustainability through widespread tree plantation, conducting blood donation camps, engaging in corporate social responsibility efforts, and much more.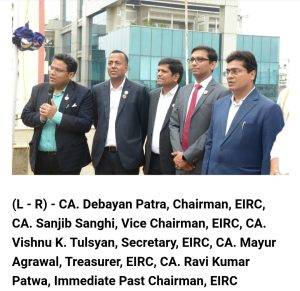 Established by an Act of Parliament in 1949, the Institute of Chartered Accountants of India (ICAI) is a statutory body responsible for regulating the profession of Chartered Accountancy in India. With unwavering commitment, ICAI upholds the principles of accountability, integrity, and transparency, championing their application in every aspect of the country's economic system.
As a dedicated partner in nation-building, the Eastern India Regional Council of ICAI takes great pride and enthusiasm in organising the "Iconic Day" event on July 1, 2023, to commemorate the Institute's 75th Foundation Day. The festivities began with the hoisting of the CA Flag at the Institute Premises on Russell Street, Kolkata, led by CA. Debayan Patra, Chairman of the Eastern Region, alongside the esteemed members of the Eastern India Regional Council. The celebration further included planting 75 saplings, a cleanliness drive as part of Swacch Bharat Abhiyan, an investor awareness program, and blood donation camps.